DCC™ Expertise in Key Products & Materials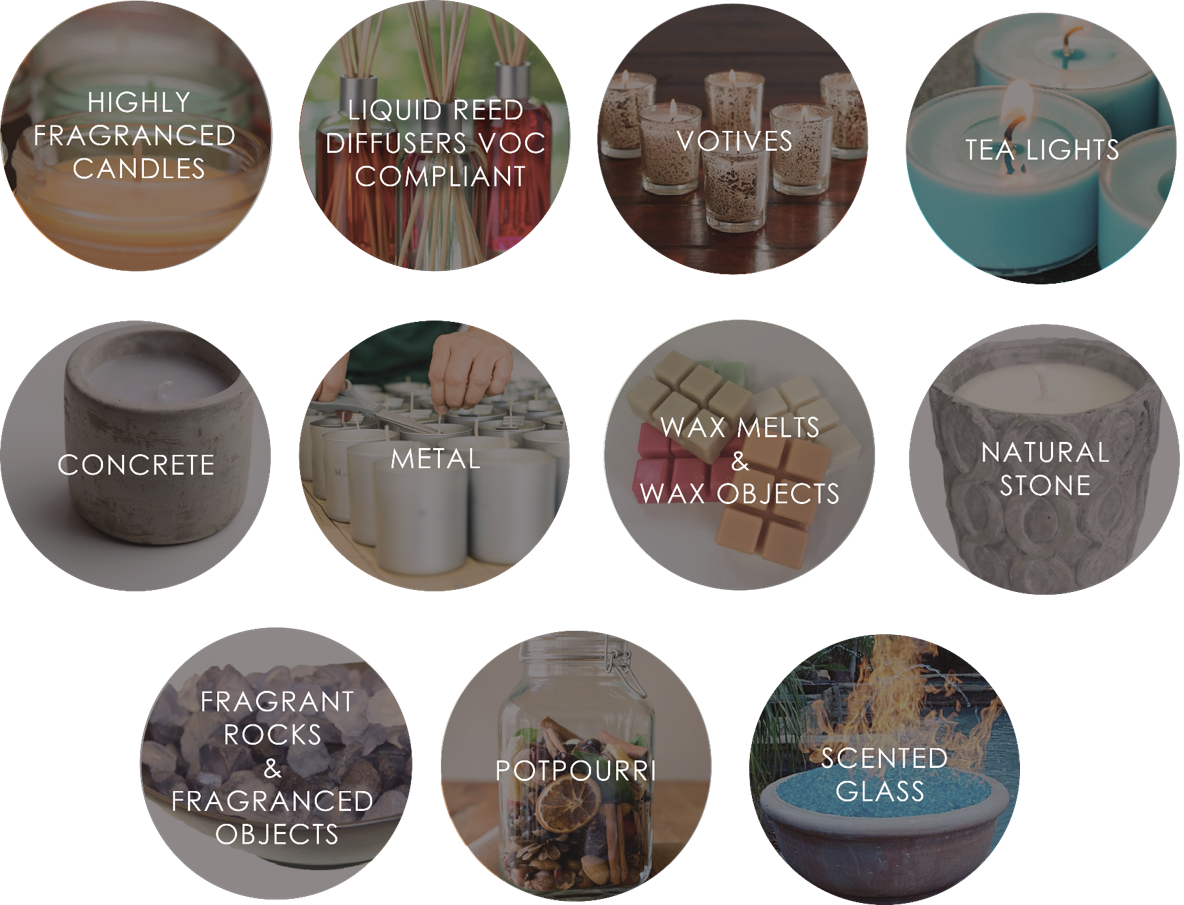 Solutions to Delight Your Customers

These options allow your brand to offer customers a broad portfolio of products and extend product lines to maximize sales all with simplified one vendor management.
Highly Fragranced Candles

Liquid Reed Diffusers VOC Compliant

Votives

Fragrant Rocks and Fragranced Objects

Potpourri

Tea Lights
Flexible product manufacturing lead times once development is complete and all client components are received.

Nimble scheduling to accommodate "hot list" products so clients won't miss out on revenue.

Responsive new product development and experience spotting potential production problems with client provided components.
Our Process


It is of the utmost importance to be able to solve problems and eliminate variables to best ensure consistent, quality products for DCC™ customers in order to streamline new product development to get to market quickly, efficiently.
Each candle is custom formulated to ensure a premium quality product. The candle is uniquely developed and tested with complete written documentation.

DCC™ uses the highest quality of ingredients including FDA approved food grade paraffin, cosmetic grade and natural waxes. The purity of our custom formulations ensures the highest quality of premium, clean burning candles.

All wicks used by DCC™ consist of paper, cotton or a combination of both. All of our wicks are lead-free.

We do not blanket wicks across containers and fragrances. Extensive wick evaluation is performed on each and every candle to achieve the ultimate burning candle possible. All testing is well documented.

3rd party testing is available upon request.

All diffusers are sent to outside lab for flashpoint testing
Quality Control Department

Incoming inspection on all components

Set Standards with customer specs

Candle performance testing lab which includes extensive testing and documentation on each formulation

Candle performance testing and documentation is performed to ASTM strict guidelines and standards

3 month stability cycle testing

Pre-production and post production burn testing

Batch retains (2 years) on all products

Third party testing upon request

Customer top samples on components and finished goods

Most importantly, building quality into the process and DCC™'s caring people, a hallmark of a family-owned business.
Dianne's Custom Candles™ currently has 45,000 sq ft space with the means to grow. Existing warehouse area available to convert to additional future production space. A proprietary heating system that DCC™ can maintain precise temperature control of wax batches. This allows us to have tight QC parameters on all our batches. Due to this tight control, we maintain the integrity of the fragrance.

DCC™ manages batch sizes, time and temperature of products to preserve the temperature sensitive high notes of fragrances. Luxury complex fragrances require sophistication and attention to detail to properly preserve the depth and complexity in order to deliver a product that excels in the marketplace. DCC™ has an expert team with a solid core of R&D, lab, QC, and production professionals, along with a good local market of quality employees to expand as needed for peak seasons.

Our expansive production facility capable of handling large projects. The facility is highly adaptable and flexible layout for responsive up to the minute schedule changes to accommodate current changing product mix demand with ample warehouse area for future production area conversion, utilizing outside storage.
Vendors are an important part with their products and resources. DCC™ partners with world-leading suppliers in raw materials, waxes, wicks, components, fragrances.

Preplanning meetings with vendors are important to manage supply, get technical advice, manage to time, ensuring quality and consistency as well as allocating lots of raw materials to isolate numerous variables.

Production scheduler and inventory specialist work hand in hand to form preliminary and final production schedules based on your forecast, accommodating your needs for what product you need and when you need it. Significant changes to schedules can be accommodated when the dynamic product demands require to ensure no missed revenue opportunities.

DCC™ scheduling and management team is very attentive and tightly linked to your purchasing, NPD, sales, QC teams with multiple communications daily.
DCC™ maintains a core caring dedicated employee team in production, warehouse, R&D, operations, and QC.

DCC™ promotes from within whenever possible for those that have shown dedication and a willingness to leverage their experience to a new level. DCC™ also looks outside the organization for new talent and new ideas.

DCC™ has undergone and passed several social compliance/labor audits for several top retail brands in the industry as well as government agencies.
Dianne's Custom Candles™ has years of shipping experience accommodating major brands and large retailers with multiple distribution centers and various labeling requirements.
Truckloads, LTL, UPS/FedEx etc…

Centralized upper Midwest location to distribute and service a National customer base

Experience in split/customized shipments for various channels (multiple DCs, e-commerce, promotional fulfillment/testers)

Capable expert packing for assuring product development and quality assurance stays on track
Get Started on Your New Fragrance Project